Thank you for your interest in my free essay, "Your First 90 Days." As a new manager/leader, you have your work cut out for you. But please slow down and be strategic. Many careers have sidetracked during the first 90 to 180 days in a new job because the entry was too fast.
Don't let your title dictate your strategy. Rather, consider my seven steps you can take to smooth your transition.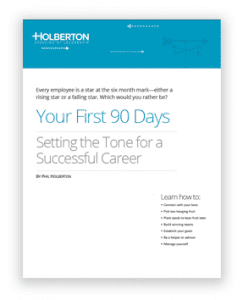 Fill out the information below and click "Send" to receive your copy. You will be directed to a download page.
Sincerely,
Phil Holberton